The Gift of Reading
April 24, 2023 / By Lexie Feterl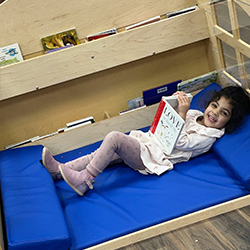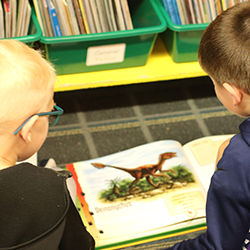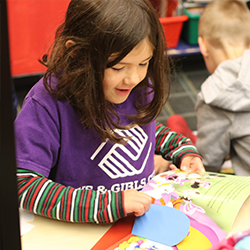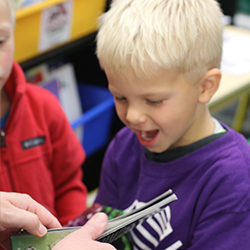 The Gift of Reading
Reading to children is one of the greatest gifts we can give them, regardless of their age. In fact, it's one of the first steps to help support brain development and prepare your child for future learning experiences. According to South Dakota Early Learning Guidelines, "The youngest children build the foundation for reading and writing as they explore books, listen to songs and nursery rhymes, hear stories, and begin to draw and scribble. Preschoolers learn to follow along as someone reads to them, remember familiar stories and talk about them, learn the names of the letters of the alphabet, and begin to be more intentional about what they draw and scribble. Children also develop phonological awareness as they play with the sounds of language. All of these characteristics and skills are important because they lay the foundation for children to become successful readers and writers in elementary school."
At Boys & Girls Clubs of the Sioux Empire, our teachers understand the impact that early literacy activities can have on a child's ability to be successful in school. Research tells us that about 85% of a child's brain is developed by age 3. By the time children are 3 & 4 years old, their vocabulary, attention & general knowledge are predictors of 3rd & 4th grade reading comprehension. Our early childhood classrooms, from Infants through Pre-K, provide access to a variety of books in each classroom throughout the day for formal and informal experiences. Our curriculum also incorporates planned book experiences, language activities and literacy materials that promote early literacy skills that are appropriate for the children in each classroom.
You can start reading to your children at any age, as it is beneficial even for a baby. It can also be a time for you and your child to enjoy together and a simple way to connect while juggling a busy schedule. By reading books with your children, you provide enjoyment, build the foundation for future reading skills, expand language skills, and develop listening skills, thinking skills and talk about real life situations. Little minds are always at work and soaking up information.
Here are some tips for reading with your child:
Make reading together a consistent routine (maybe at bedtime)
Take your time and make it fun by the way you use your voice
Involve your child in choosing the book, turning the pages, and holding the book or a toy while you read
Be willing to read the same story over and over because your child is still gaining something from the experience
Start at a young age by pointing out and naming pictures you see in the book and pointing to the words as you read them
Ask your child to find certain pictures on a page and point to them as you tell the story
Ask your child questions like "What do you think will happen next?" or "How do you think the person in the story feels?" as you read
Ask your child to tell/read you the story after you have read it
Encourage your child to act out the story with you or in play
There are a variety of resources available in our amazing community to obtain books to read to your children. Besides yard sales, used bookstores, and thrift stores, we also have the Siouxland Public Library as well as the REACH Literacy program.
Give your child a gift that lasts a lifetime...read with them!
Kristy Bjorum
Early Learning Academy Director